[Edit notes moved to the bottom of this post, Greg]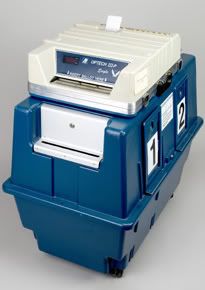 When Diebold declined to share proprietary software with NC elections officials in 2005, Electronic Systems and Software (ES&S), through Printelect, became the only approved vendor of election equipment in North Carolina. Printelect is a North Carolina company with offices in New Bern and printing operations in Fayetteville. Printelect is the authorized dealer for ES&S in North Carolina, South Carolina and Virginia and the only ES&S certified printing vendor in these states. Printelect specializes in printed optical scan ballots which it supplies nationwide as well as providing other election related products.
Printelect is presented on company websites as "Printelect, Inc.," and as the "Owen G. Dunn Company" doing business as "Printelect". The NC Secretary of State's Office has no record of a corporate filing for "Printelect, Inc.," either as a new company, name change or merger. The last Annual Report filed by the Owen G. Dunn Company was for the fiscal year ending 12/31/2004. The company also operates "Dunn's Office Solutions" in New Bern.
Searches of the records of the Registers of Deeds in Cumberland County, Craven County and Wake County do not indicate the filing of any Assumed Name Forms for an entity named Printelect. The only related filing was in 1998 in Cumberland County for the "Owen G. Dunn Company" DBA "Fayetteville Printing and Office Supply Company".
Since 2006 there have been some concerns about the cost of printed optical ballots for ES&S machines due to very specific requirements mandated by ES&S which amount to a 20 cent premium per ballot.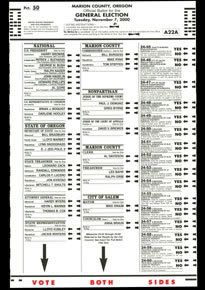 In Wake County, N.C., which uses ES&S optical scan machines, Board of Elections Director Cherie Poucher said a local, non-ES&S certified vendor, Commercial Printing, charges no more than 13 cents per ballot. Printelect charges up to 33 cents per ballot.

Poucher said her elections office felt it was wise to use Printelect for the 2006 primary and general elections because those were the first elections using new state-required voting equipment.
By all accounts Printelect is a responsible and reliable vendor and election observers are relieved that Diebold did not succeed in 2005. At a meeting of the Forsyth Board of Elections in 2006 Joyce McCloy of the NC Coalition for Verified Voters commended the Board for not choosing Diebold voting equipment. At the same meeting Elections Director Rob Mr. Coffman discussed the printing of the ballot:

He stated he got a quote from PrintElect, who was an ES&S recommended vendor, and the ballots would cost 28 cents each. He received a quote from another ES&S certified printer in Michigan and the ballots would be 14 cents each. He explained had talked with the State Board of Elections and they were fine with using the Michigan printer on the condition they get ballots to test and are able to confirm the quality of the ballots.
From Printelect.com and PrintelectStore.com
Printelect, Inc., located in Fayetteville, North Carolina, formerly Owen G. Dunn Company and Fayetteville Printing Company have been in business combined for over 176 years. We have printed optical scan ballots since their introduction in the Southeast in 1976.
:::::
Today, we are the largest printer of optical scan ballots on the east coast, and one of the largest in the United States. In most election years, we will produce over 10 million ballots. We currently furnish most optical scan ballots used in North Carolina, Vermont, New Hampshire, Maine, Massachusetts, Florida, Georgia, Maryland, South Carolina, Missouri, Alaska, Virginia and New Mexico.
:::::
Originally trained and certified by Election Systems and Software (ES&S), we print ballots for the Optech III-P Eagle and Optech III-P machines. We work together with your ballot programmer in answering any technical questions which may arise concerning your ballots.
I am not a connoisseur of elections, election equipment or procedures. Others are much more knowledgeable (and opinionated) than me on the subject. From what I know optical scan technology is very reliable, ES&S is deemed superior to Diebold in North Carolina and Printelect has been dependable. I have always been troubled by the sole sourcing of equipment, supplies and service. For matters related to the integrity and security of voting I would however expect the credentials of vendors to be impeccable and verifiable. When voter registration criteria, including identity and location, are contentious I don't think it is too much to ask that Printelect formally register where it conducts business.
Q. How long has Printelect been in the elections business?
A. Formerly Owen G. Dunn Company, founded in 1902, in New Bern, North Carolina, Printelect has been in the election industry for over one hundred years. As the largest printer of optical scan ballots and one of the largest printers in the country, we currently furnish millions of ballots throughout the United States annually. As an authorized dealer for Election Systems and Software (ES&S) in North Carolina, South Carolina and Virginia, we have extensive experience with optical scan and DRE technology. Printelect has installed and maintained the state-wide voting systems in both North Carolina and South Carolina and we are currently growing transactions throughout Virginia. Our corporate office is located in New Bern, North Carolina and our printing facility (formerly Fayetteville Printing and Office Supply) is located in Fayetteville, North Carolina.
[Edit notes moved to the bottom of this post and retained for the record. I believe the questions raised have been addressed. Greg]
NOTE: NC Voter has links to the Secretary of State filings, which suggest Greg may have missed a document in his research. I'm leaving this up on the front-page until he has a chance to weigh in. Don't you just love the interTubes? The truth will out.

Would the person who has inserted this edit please identify themselves and note my comments below. My information comes from the same document. I have not missed it. Greg

My mistake. A. Sorry for the confusion.