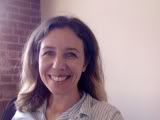 Lisa Sorg is the new editor of the Independent Weekly, where she began as a staff writer in September 2006. She previously served as editor at two alternative newsweeklies: most recently, at the San Antonio Current and from 1999-2001 at the Bloomington (Ind.) Independent. Lisa has won more than a dozen awards for her work, including public interest, criminal justice, investigative and feature reporting.

Originally from Mechanicsburg, Ind., population 200 people and 400 cows, she now lives in Durham with her husband and cats.
For those of you outside of the Triangle, The Independent is one of the all-time great newspapers in North Carolina and beyond. The writing is smart and tight and progressive, and it is very big deal for someone new to be named editor. I hope you'll be around on Friday morning to meet Lisa. We'll get cranking around 8 am, so grab a cup of coffee and join the fun!