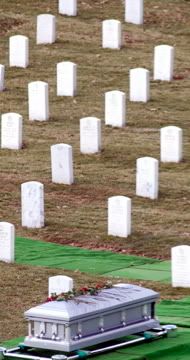 There's been talk that some of you are unhappy about the process used by the Democratic Party to select its presidential nominee. You're so unhappy, in fact, you are threatening to boycott the democratic process if your candidate doesn't win as a result of the other candidate receiving more delegates under the system you don't like.
Well, I have one thing to say to that: Grow up.
A lot of things in life aren't fair. Do we ever change them by quitting? No, no we don't.
I imagine that many of you who are ready to walk away from democracy could ever claim that life has been unfair to you. I bet very few of you have ever been faced with real hardship. I'm also sure many of you have never had to really fight for something...and I'm not talking about that time you fought to convince your parents to give you a cell phone.
Listen, there has been far too much blood spilled in the name of this democracy for you to just walk away because things didn't go your way this time. Far too many people died to secure this democracy and far too many have died to protect it.
This is a free country, though, and you're welcome to walk away if you want. Before you do, I want you to do me one favor. I want you to step into this field of white stone and tell these sons and daughters of America that you just can't be bothered to do your part for this democracy.
Too far to travel? OK, look into the eyes of a Gold Star Mom or a disabled veteran. Let them know how unfair you think the democratic process is. I'm sure they could tell you a thing or two about what is and isn't fair. Oh, and while you're at it, make sure you thank them for their sacrifices.
Maybe I'm being a little hard on you. Maybe it's your first time participating in this messy thing called democracy. Maybe I should lighten up.
OK. I tell you what. I'll lighten up if you'll do this for me: Put away your blankie, take your thumb out of your mouth, pull up your big boy/big girl pants, get off your couch and go vote. Vote in May. Vote in November. Vote in special elections. Vote in municipal elections. Vote every chance you get. You know you can do it. It's not like I'm asking you to stand in front of a bullet or drive over an IED.