There is exciting news coming out of Charlotte for the Kissell campaign. House Majority Leader Steny Hoyer (D-MD) and Congressman John Spratt (D-SC) will be hosting Ambassador Joe Wilson at a fundraising event in Charlotte on September 22, 2007 in support of Larry Kissell's bid to unseat Robin Hayes (NC-08). Ambassador Wilson is a symbol to many of us of the courage it takes to tell the truth and stand for what is right regardless of the cost.
Joe Wilson recognized that erroneous information was being used to convince Congress and the American people that war in Iraq was necessary and did what he could to shine light on these errors. He tried to bring more transparency to one of the most secretive administrations this county has ever known. For more background on Wilson, read his book, The Politics of Truth: Inside the Lies that Led to War and Betrayed My Wife's CIA Identity: A Diplomat's Memoir
We are very excited to be welcoming such an important national figure to Charlotte. Larry Kissell's race against Robin Hayes is seen as one of the top congressional races for the 2008 cycle among many national pols and pundits. Larry's hard work last cycle has earned the attention of many on the national scene and the presense of Ambassador Wilson, Rep. Steny Hoyer and Rep. John Spratt is a sign that they recognize the importance of this race and the strength of Larry's candidacy.
It's exciting that House Majority Leader, Congressman Steny Hoyer of Maryland is sponsoring the event. As Majority Leader, he manages the House floor and schedules legislation that is under consideration. From his web site: "He also plays a key role in helping House Democrats determine their legislative agenda and political strategy, and building support for the Party's positions and delivering the Democratic message both in Washington and nationally. Prior to being elected Majority Leader, Congressman Hoyer served two terms as the Democratic Whip."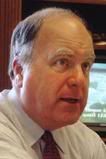 Another powerful and respected member of congress, John Spratt of South Carolina is also a sponsor and plans to be here to support Larry as well. Spratt was first elected to Congress in 1982. He is "Chairman of the Budget Committee and has been a leader in shaping the federal budget. He first served on the Budget Committee from 1990-1992 and was the committee's Ranking Member from 1997-2006. One of his proudest accomplishments is the Balanced Budget Agreement of 1997, which put the federal budget in surplus for the first time in thirty years. John is also the second ranking Democrat on the Armed Services Committee. He serves on three subcommittees: Oversight and Investigations, Strategic Forces, and Air and Land Forces. In addition to his committee work, John co-chairs the Textile Caucus, the Bearing Caucus, and the Nuclear Energy Caucus."
This event is being planned and organized by Young Professionals for Kissell. Those of you who are long-time readers of BlueNC or readers of my diaries cross-posted at Kos and MyDD for Larry Kissell last cycle, will remember my first write-up of a Larry Kissell fundraiser. It was the first event held by Young Professionals for Kissell. Tami Vogel, the leader of the group, is one of the most highly organized people I've ever met. She pays attention to every detail and has put together an amazing evening for us all.
You will want to save the date. Mark your calendar and head to Charlotte on September 22, 2007. The event is from 7:00pm to 9:00pm and will be held at Spratt's in the Bank of America tower in Charlotte. Click through the image for a larger view of the invitation.
If you would like to order your tickets via ActBlue, Tami has set up a special account. Please go here and place your secure order. You must RSVP by September 15, 2007. Contact information is on the invitation above.