Things are heating up, folks. So put on your body armor and get to work. We need to get Marshall's back. This was posted today at the N&O's Blackwater Blog. It is an email from one of the @$$holes who works for Erik Prince in the war-profiteering business:
All:

There is a man named Marshall Adame who is running for congress (sic) in our district. He just put a quote online which says he wants this company and all of us to cease to exist.

Do you like your jobs? Are you sick and tired of the slanderous bullshit going on in DC? If so, would you all mind joining me in reminding Mr. Adame that he is running for office in our backyard. Tell all your friends and family too. We welcome their assistance in making this point very clear to Mr. Adame.

Anyone who wants to send a letter may do so at the following address…..

MARSHALL ADAME FOR CONGRESS
PMB #161
1250 WESTERN BLVD. #L2
JACKSONVILLE, NC 28546

His email is info@marshalladame4congress2008.com

He was too cowardly to put a phone number on the web. I ask that you keep your comments to Mr. Adame professional (well, mostly professional). We help him if our comments get threatening or too crass. Let's run this goof out of Dodge….!

Bill Mathews
Executive Vice President
Blackwater Worldwide
850 Puddin Ridge Road
Moyock, NC 27958
With people like Mathews running the Blackwater circus, it's no wonder the company lurches from one f*ck-up to another every day in Iraq.
*****************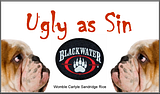 Note to Womble Carlyle Sandridge and Rice: Nice client you have there. You might want to recommend that Mathews get down on his knees and apologize to an honorable man for exercising such piss-poor judgment.