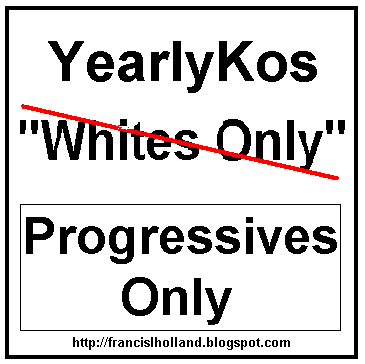 I watched the promotional video from last year, and I saw six Black people among 1,500 participants.
Cross posted at the Francis L. Holland Blog, MyDD, and Culture Kitchen.
Today, I came across a link to a publicity video for YearlyKos, an annual confernece of Democratic Party leftist anti-war bloggers, and I watched the entire video to confirm a suspicion:  That YearlyKos is an overwhelmingly white gathering - disproportionately white considering the number of Blacks in the Democratic Party.  http://video.google.com/videoplay?docid=
-1234580617661540850&q=Mark+Bowllan  Watch the film for yourselves and tell me if my perceptions are in error.
Here's what I saw watching the film of the YearlyKos annual blogges conference:  Watching a thirty-nine minute video of "1,500" "progressive" Democratic Party bloggers at a hotel in Las Vegas, in all of the shots where the camera panned the crowds, the hallways, the hotel rooms, and speakers diases, I saw two Black women and four Black men among 1,500 people.  If accurate, this would mean that YearlyKos was about .03% Black in a Democratic Party that has 20% elected and appointed Black delegates at the Democratic National Convention.  What is it about DailyKos and Yearly Kos that makes it so white in a Party with so much Black participation?
Markos Moulitsas, the owner of the DailyKos leftist anti-war website says in the video, "Look at this conference!  It's the epitome of people power!"  To me, a yearly meeting of 1,500 people that includes only 6 Black people is the epitome of white people power, and that's why I think it's so important to bring this to everyone's attention. I was not surprised by the almost utter lack of diversity at the annual meeting, since I have read internal polls from DailyKos indicating that the group is only 2.5% Black in a Democratic Party where 20% of the delegates to the National Convention are Black, and there are more Latinos and Asians who remain unrepresented at DailyKos.
(DailyKos Internal Poll) 
In a thirty-nine minute video, Darrell Jackson of Young Turks was the one and only Black person to speak about the conference and his role.  No Black politicians were featured in the video.  One Black speaker was shown on stage, but just for a moment less than would have been necessary to hear anything he said.  In crowd shots, one lone Black man was shown two or three times.
Someone else said in the video, "Locked in convention hall with 1,500 bloggers," "I think DailyKos is going to have an influence  . . .for years and years to come.  It's where everybody comes . . .!"  "We broke a record of squeezing more people into one room".  If all of this is so, then YearlyKos is setting a dangerous precedent for color-based exclusiveness within the Democratic Party that may portend a new realignment of voting patterns among Blacks and Latinos in the future.  I predict that if virtually all-white groups likes YearlyKos gain more prominence in the Party then Black people will vote less at the polls or vote against the candidates and issues supported by all-white groups.
Because, a Black person watching the YearlyKos publicity video would conclude, and I think rightly so, that this conference was for white people who were designing a new direction in which Black people and other minorities are undesireable, irrelevant and/or superfluous.  It's hardly necessary to post a "Whites Only" sign, when the publicity video makes the complexion of the group as clear as a sign would.  If a "picture is worth a thousand words", then a 39 minute video with only six Black people must be worth a whole hard drive of words - words saying "DailyKos is overwhelmingly a white conference for white people".  http://francislholland.blogspot.com/2007
/02/httpfield-negro.html http://francislholland.blogspot.com/2007
/02/new-reparations-blog-no-whites-allow
ed.html    http://francislholland.blogspot.com/2007
/02/blogger-color-blindness-does-not-exi
st.html
It should be obvious that any political organizing among all-white bloggers and any political movement that results from the meeting will not include Black people.  How could it, how should it, if virtually none of us have participated in the white bloggers' planning and calls to action?
If you simply don't like Black people, you will never find a more comfortable atmosphere in America than the Yearly DailyKos conference.  The percentage of Black people at YearlyKos is less than the percentage of Black people in any state of the United States.  
But then I wasn't at the conference and I'm only reporting what I saw on a 39 minute video.  My intention here is to explore the truth - not to propagate fallacies. If what I am reporting is incorrect, I invite anyone who has better information to provide it.  
At the end of the Conference video, one speaker asked,
"One more question!  Do you want to do this next year?"
With respect to the near-total absence of Black people, I think that's a question that urgently demands to be answered.  "Do you want to do this next year?" http://video.google.com/videoplay?docid=
-1234580617661540850&q=Mark+Bowllan
Cross posted at the Francis L. Holland Blog, MyDD, and Culture Kitchen.